| Pages: | 1 | 2 | 3 | 4 | 5 | 6 | 7 | 8 | 9 | 10 | 11 | 12 | 13 | 14 | 15 | 16 | 17 | 18 |
| --- | --- | --- | --- | --- | --- | --- | --- | --- | --- | --- | --- | --- | --- | --- | --- | --- | --- | --- |
25/10/2010 - Partnership And Unity For An Extended Domination :

We are proud to announce that we are now wholesale distributors of:




KAOSTHETIK



Industrial and Dark Ambient French label that provides great and ambitious artists such as KENJI SIRATORI, SONIC SURGEON, AERE AETERNUS, CAITHNESS...

Customers, productions from Kaosthetik are available in our mail-order section!
Distributors, send an email to nodens@necrocosm.org to received our wholesale list!




DEATH IS ART
03/10/2010 - SERINGUE - ABSORPTION - TORTURE - DIAPSIQUIR - ALIENATION - NIHILISME :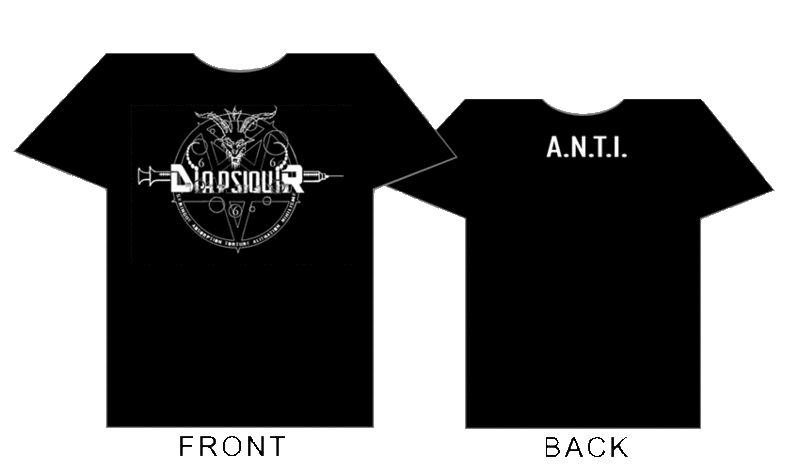 Get Filthy under Diapsiquir Decadent Urban Banner!

DIAPSIQUIR
Logo

Limited Edition!

White quality printing on both sides / high quality shirt.
Available Sizes: S, M, L & XL.

Girlies also Available (Sizes S, M & L).

- DEGENERATION IS ART -
29/09/2010 - Support Degenerated Fukkerz :
Back in stock :

DIAPSIQUIR TS & Girlies - Sizes : S, M, L & XL.
NEO INFERNO 262 TS & Girlies - Sizes : S, M, L & XL.


21/04/2010 - Reverence joins the Necrocosm's roaster for gigs :
The French Industrial & Experimental Black Metal project :
REVERENCE
is now handled by Necrocosm events for gigs and tours.

SO, if you 're interested to organize an event (gigs, fest, tour) with them,
contact us for conditions and availabilities.

REVERENCE on myspace

Death is Art


29/03/2010 - Out now on ZANJEER ZANI Productions : HABSYLL "logo" T-shirt :
HABSYLL
"logo"
T-shirt

From the most obscure abyss
The occultists behind Habsyll have released their first T-shirt
on the unfriendly label : ZANJEER ZANI.

Grey logo on fruit of the loom's shirt.
Sizes available : S, M, L, XL & XXL.

ZANJEER ZANI is officialy distributed by Necrocosm.
Distributors ask us for wholesales prices.


- Death Is Art -


04/02/2010 - Madness available for distributors :
ARTEMISIA ABSINTHIUM / WEASEL WALTER
LP - Green color limited to 500 copies.

Ask us for wholesale prices at order@necrocosm.org

"Complex tracks which mix grindcore utrablast-beats and screaming vocals with jazzy sax and psychotic bass.
No fucking popy rock'n roll here!
You all know that ARTEMISIA ABSINTHIUM was the reason of Baudelaire and Van Gogh's madness.
Now ARTEMISIA ABSINTHIUM and WEASEL WALTER should be the reason of your upcoming Madness..."


Death is Art

27/01/2010 - PUNISH YOURSELF vs SONIC AREA "Phenomedia" CD in distribution. :
PUNISH YOURSELF vs SONIC AREA "phenomedia" out now!!!

Contact us for wholesale prices : order@necrocosm.org

Incredible new release ! Check these links and enter in their world :

teaser youtube :
http://www.youtube.com/watch?v=Vm6BC4Pimho

myspace (info + teaser + 2 tracks) :
http://www.myspace.com/sonicarea

"HEART OF DARKNESS" movie (music by PUNISH YOURSELF vs SONIC AREA)
Youtube :
http://www.youtube.com/watch?v=45z7Hpbnjlc
Youtube teaser :
http://www.youtube.com/watch?v=LhqW9xQJ ... re=related

Full movie available here:

http://dl.free.fr/u3rMyB8fI

http://dl.free.fr/q8l5ZlyN4

http://blog.ehrmann.org/films/punish-yourself.html




PUNISH YOURSELF vs SONIC AREA "phenomedia" (2009)

1-obedience channel (part1)
2-twisted thrill ride
3-tragic hollywood hero
4-I had orders
5-powercut
6-cancer anyone ?
7-the higher you fly...
8-ici bas
9-there's no way out but down
10-obedience channel (part2)
11-Wacko (season 2)
12-dead idols island

Remember about the old "United we stand, divided we fall" slogan ? Punish Yourself ("Cult Movie", "Pink Panther Party"…) and Sonic Area ("Insensé", "Explore") probably had this in mind when they decided to join forces on a common record. "Phenomedia" is not a classic split-album, or a collection of mutual remixes, but a full fusion of both musical universes - resulting in completely exclusive tracks, going far ahead of anything you would expect. Influenced by Hint, Download, Pentaphobe, Foetus, Coil or The Downward Spiral, but mostly by the hypnotic power of mass media, Arco (Sonic Area's mastermind) and vx "cheerleader" (PY singer and programmer) tried to break all stylistic boundaries and restrictions, in a merciless attempt to decipher the "Real World" or at least give some aural image of his morbid complexity. Dense, nervous, sometimes hard to describe, "Phenomedia" mixes cinematic orchestral atmospheres, dirty hip-hop, tribal industrial techno-punk, brutal wall of sounds, hard-glitch breaks and lush ambient soundscapes – and if you think it's too much, you're probably right ! This is a shamelessly noisy freaks parade announcing the "Nightmare Before Apocalypse" : acid bass lines, explicit TV sampling, screaming saxophones, broken drum machines collapsing into moody organic percussions, melancholic piano arpeggios and cello, distorted blues guitar, suicide lullabies, whispers, incantations, rants… This is hard cut-up music for chaos lovers, topped with broken bits of post-industrial mythology – the Roswell Alien, Kurt Cobain, Elvis Presley, Hakim Bey, Nikola Tesla, Jim Jones, Timothy Leary, JF Kennedy and many more unwilling guests. Do you feel like you're part of a media-traumatized generation ? Do you feel addicted to the continuous stroboscopic flow of information, entertainment, spiritual promises and advertisement delivered by TV, the internet, movies, radio ? Is channel/net-surfing/scanning/hopping your favourite killing-time drug ? Do you feel like nothing is good enough, real enough, awesome enough for you ? How can you spend more than twenty seconds of your precious attention span if this record is just another product of the music industry ? Who's the next scapegoat ? Who's the next star ? Who's the next Guru ? Who's the next Prophet ? What's the next distraction ? What's the next thrill ? What's the next reason to believe in something ? Should you buy a new laptop ? What should you fight for? Money ? Power ? Disorder ?
Put the remote down and try Phenomedia. Welcome to one of the most innovative, esoteric, poetic and pessimistic cyberpunk album ever recorded !!!

NOTE : 12 pages Booklet's childlike unpretentious artwork was inspired by Naïve and Psychiatric art, German Expressionism, Surrealism, Droste effect, Tim Burton, grotesque eye-catching TV shows visuals and all phantasmagoric theme park ride.





Death is Art





19/01/2010 - HABSYLL in distribution :
!ACHTUNG - drones, no doom, occult maniakz -ACHTUNG!

We 've now in distribution the last offering of new cult french bastards HABSYLL : "MMVIII" Digipack CD.

The most fucked-up, tormented and extreme doom metal band from France ever! Beware, music is not a hobby, music is art, art is not comfortable, art is the only truth!

Available at wholesale prices for all occult dealerz.

For more information, ask us!

Death is arT

05/12/2009 - FILTH - LSD - VIRUS - URBAN PROPAGANDA - DIAPSIQUIR - URBAN PROPAGANDA - VIRUS - LSD - FILTH :
Out now, to pervert our Necroworld :

DIAPSIQUIR
T-shirt

Sizes : M, L, XL.

also available on Girly (S & M) for all our Bitches!

Spread this newz in all dirty backrooms!

Death is Art
25/09/2009 - Rejoignez Notre Temple :

SEKTARISM
"Rejoignez Notre Temple"

T-Shirt (S, M, L, XL & XXL)
Girly (S, M & L)
Hooded (XL)

Out now - Limited edition!

white printing (front, back and sleeve) on Heavy Fruit of the loom shirts.

Join Us, Become a Disciple Of The Ignominy.


The Reign of The Apostles of Ignominy just begin!
13/09/2009 - STN Virus Has Been Efficiently Spread :

NECRO-002 DIAPSIQUIR Virus STN is now Sold-out.

For The Sickest And Most Perverted Of You, We Still Have Some Very Few LP Versions Left. Get Hurry Necrofuckerz!

But Stay Alerted, Diapsiquir's Madness Will Restart It Nihilistic Dirty Urban Crusade Really Soon...
08/05/2009 - Be proud to show your appartenance to The New Order working for His glory!!! :

Wear our new necro-TS-004 NEO INFERNO 262 T-shirt or die, as a fucking decadent atheist you are!

Sizes available : S, M,L, XL & XXL.



!Socialize yourself and your children under His will!
| Pages: | 1 | 2 | 3 | 4 | 5 | 6 | 7 | 8 | 9 | 10 | 11 | 12 | 13 | 14 | 15 | 16 | 17 | 18 |
| --- | --- | --- | --- | --- | --- | --- | --- | --- | --- | --- | --- | --- | --- | --- | --- | --- | --- | --- |